Totally Thrilled: LibreOffice 4.4.5.2 for OpenIndiana Hipster
Posted on:

11 August 2015

By:

tomww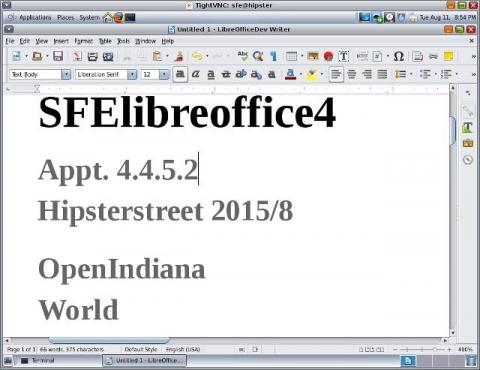 (Update: For now, please start Libreoffice with: /usr/lib/libreoffice/program/soffice -writer )
http://sfe.opencsw.org/sites/sfe.opencsw.org/files/field/image/SFElibreo...
I'm totally thrilled! Burning 10 hours of CPU time and what is the result?
We have LibreOffice 4.4.5.2 now in SFE!
What does that mean? You can build it on your own or use the ready built binary IPS-package (expect the package to be up before Friday 14th Aug 2015)
The spec file to build it is for a moment still in the experimental area, but the first build will hit the OpenIndiana Hipster IPS repository in a few hours.
Credits! It's all about Credits!
1. The LibreOffice Team and all the supporting Team giving libraries and more.
2. As far as I know it is Mr. Tribblix, he did a maaajor part of the porting to solarish OS for his own OS Distro. And very important (!) he wrote on his blog about all the details!
3. Pjama, hey, the verrrry best greetings to australia, thank you so much for your quality spec files and your trust to hand them over for integration! It was only cosmetic stuff to align with SFE.
So it was only a matter of time to merge the spec files into the SFE spec-files-extra code tree
and burn CPU time. It took 10.5 hours to compile the final shot.
I believe you have questions, then drop me a note on Twitter (tomww) or an email tom68 a users sourceforge net
Wha does SFE spec-files-extra survive so many years? I believe its because of fantastic maintainers, a superios set of OS-Distribution where is runs on.
Oh, by the way, SFElibreoffice4 is today on OI Hipster 2015, but will be worked on to be available on OI151a9, Solaris 11 and if you have access to is Solaris 13 devel.
That is why SFE can be successfull, I believe because so many OSDistro share maintenance work for the wonderful packages which make your OS a success and fun.