LibreOffice4 4.4.7.2 available for Solaris 11.3 (x86) and OpenIndiana Hipster (& S12)
Posted on:

28 May 2016

By:

tomww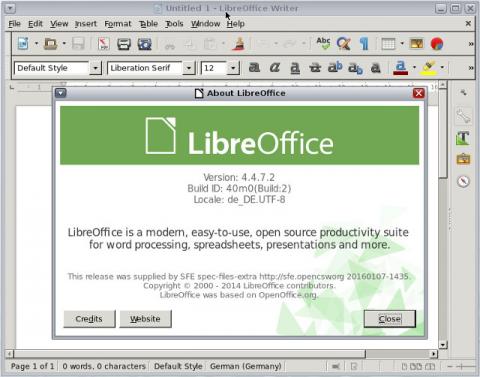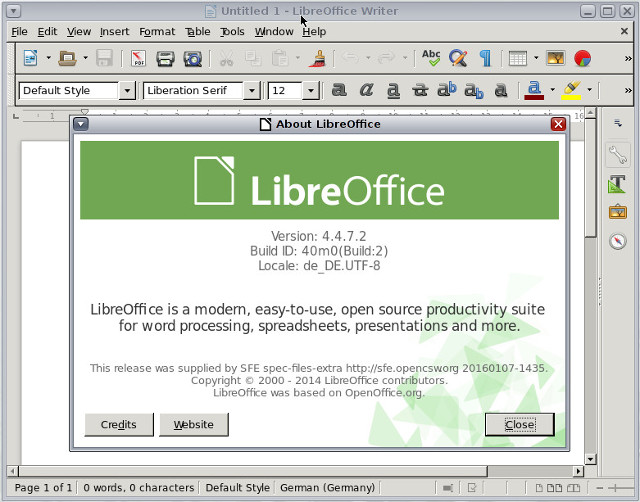 (Note: There is LibreOffice 5 in the queue, Spec-Files are ready to be built for the repository, stay tuned! Updated Dec 18th 2016)
Jan 17th, 2016
LibreOffice has been updated to version 4.4.7.2 (previous: 4.4.5.2). It is available for x86 Platform.
This is the recommended version to deploy to large scale or long term installations (5.x is a bit fresh these days - (Edit: The version "still" is now 5.0.6, update will come in a while but don't wait with installing 4.x today).
You can install it from the SFE repositories for Oracle Solaris 11 (TM) and OpenIndiana hipster.
Instructions for configuring the IPS repositories are here: quickrepolinks
OpenIndiana users please read the special instructions below.

I very much hope that LibreOffice is of great value to you. So to keep motivation high, I would really like to hear from you: How you're using LibreOffice.
As well I'm looking for testers, so if you could try the new package and give some feedback if it works and what does not, that would be great!
Install
To do a fresh install, first configure the appropriate IPS repository (see quickrepolinks) and then use the command:
pfexec pkg install -v libreoffice4-desktop-int libreoffice4
Update
To update from a previous LibreOffice4 (SFE), use this command:
pfexec pkg update -v libreoffice4-desktop-int libreoffice4
For OpenIndiana Hipster, you should explicitly specify boost and icu as well, this avoids problems when selecting publishers:
pfexec pkg install -v pkg://localhostoih/library/g++/icu pkg://localhostoih/system/library/g++/boost libreoffice4-desktop-int libreoffice4
If you don't want to update now and only know what pkg "would" do, then add a "-nv" to the command line and see the actions which "would" happen.
If you have questions or want to applaud or something (lots of contributors can use lots of compliments!), then really drop me a note here in the comments or email to sfepackages at gmail_dot_com (I'll forward)
In case you see an error, please include the screen output (copy&paste) of the pkg command. Most times the errors are easy to solve based on that information.
Please include the output from these commands:
pkg install or pkg update
pkg info entire
pkg publisher
 
Happy typing, calculating and presenting with LibreOffice!
Regards,
Thomas
(minor edit on Jan 28th 2016, May 28th 2016, Dec 18th 2016)
(Note: With April 24th 2016 there is an experimental LibreOffice 4 for S12 available!)